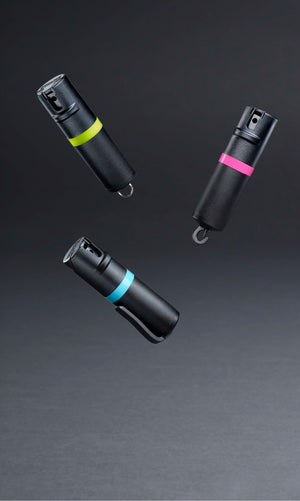 Next generation
pepper spray.
A discrete yet powerful personal defense tool.
POM Original
Available in Black, Grey and White body colors and 10 ring colors for you to choose from.
Traditional Keychain Model - Attaches to any keychain ring and comes with Quick Key Release for easy access.
Shop Key
Choose from - Clip, Key or Snap Models
Shop POM 3 Packs
Shop POM Combo
Formula
Maximum Protection, Minimum Size
POM is the smallest 1/2 oz. personal carrying unit available in the market. All units are made with FDA approved Polymer, a plastic product that is free from lead, toxins, and harmful chemicals.
Safety
Flip-Top Technology
POM's state-of-the-art flip-top dispensing system raises the standard for performance and safety. The patented design dramatically reduces the possibility of accidental misfire and greatly improves firing performance.
Patent Info
Design
Modern Simplicity
POM Industries leverages decades of experience in the design and production of aerosol defense products. Our patented design seamlessly integrates into your everyday carry.
Strongest Legal Formula
POM Clear 1.40% Major Capsaicinoids
Patented Index Ring
with 10 color options made for personalization and finger placement
Premium Grade
Patented Flip-top Safety
Prevents Accidental Misfire
Patented firing system
With floating actuator for optimal performance
10 seconds of continuous spray
Up to 20+ half second bursts
Patented ambidextrous pocket clip
Easily clips to any pocket, backpackor handbag
What our customers are saying:
Love this pepper spray!

So much more sleek and way less bulky than traditional pepper sprays I have seen. Looks exactly like the photo!
Brand I trust, well made, powerful, great safety and non lethal tool.

I have now purchased these for myself, wife, niece, neighbors, friends and family members! I have all different colors and clip types so the options are great and found a personal one for each person I gifted one to.
On my every day carry list!

I have no problems betting on these, it's on my EDC (every day carry) list. They rock! Comfortable to carry, most effective dose of spray, quick and reliable to deploy, easy and intuitive to use (especially in a hurry and under stress), discrete to conceal, all around a great bit of self-defense.
I really love the design of this pepper spray with the flip up safety!

I bought it for my girlfriend and she loves it as well because how easy it is to use! I've also done a lot of research and seen it is one of the best pepper sprays on the market!